FREE Market Report that includes your current neighborhood…or the one you wish to move to.
SnapStats® is a monthly report that I will email to you FREE of charge and will answer the following questions for you.
In the specific neighborhood where I want to buy or sell, is it a Seller's, Buyer's or a Balanced market?
Based on current trends, how long will it take to sell a home of my style, at my price point and in my neighbourhood?
What are homes selling for vs listed price?
What are the best neighborhoods to be a Seller or Buyer?
SnapStats® will educate you on what is going on in the market today, so you are prepared for tomorrow.
Your first report is waiting for you and will be emailed to you today!!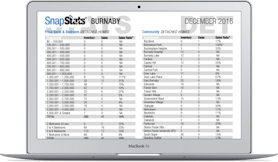 Sales ratio suggests market type and speed. For example a 9% ratio means that the monthly selling rate 9 out of 100 homes.
As defined by the REBGV:
*0-11% is a Buyer's market
*12-20% is a Balanced market
*21% plus is a Seller's market

Fill in the form below to receive your FREE report!